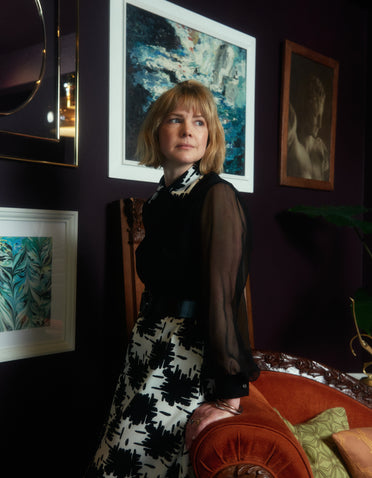 A cornucopia of nature's ancient wisdom, Sangre de Fruta sources the world's most precious botanicals to create organic skin and haircare products that enchant the senses and awaken one's inner radiance.
Transcending toxic beauty trends to promote lasting health and wellness, Sangre de Fruta's superior plant-based products are conjured from a rich history of holistic health and beauty practices.
With deep respect for the wondrous lifeforce of all living things, our exquisite botanicals are thoughtfully sourced and handcrafted in small batches to create sensory potions that nurture, protect and beautifully connect people and nature.
#BEAUTYMAGICMEDICINE
OUR STORY
Sangre de Fruta was founded by Allison Audrey Weldon after years of studying under a Vancouver-based collective of international expats who led a renowned holistic medicine apothecary in the hippie haven of Kitsilano during the 70's.
Over the course of her apprenticeship, Allison learned the art and science of therapeutic botanicals and natural remedies from these master holistic practitioners. Their teachings combined Egyptian beauty regimens with Pablo Neruda love sonnets creating a blend of ancient natural remedies with passionate love rituals.
Guided by a desire to share the secrets of holistic indulgence, Allison created Sangre de Fruta's exceptional organic products to show that quality botanicals, rituals and indulging the senses are foundational elements for true self-care, respect for other souls, and a deeper appreciation for the quiet power of the natural world.
All products are made from the fruit of the earth in small batches off the west coast of British Columbia.
#TRUSTYOURBEAUTY
INSPIRATION
Our products are inspired by the ancient beauty regimens of the Egyptians and remedies of the past. Cleopatra applied essential oils and botanical butters to her skin for protection from the elements and for sensual indulgence.
THE NAME
Sangre de Fruta means "Blood of the Fruit" in Spanish. The translation for us represents the essence of fruit, the unknown essence that is at the heart of all things fragrant, beautiful, edible, enjoyable… the mystical element of how and why nature is so powerful.